This article helps you get started with RealWear with tips, videos, and links to supplemental information.
In addition, a quick start guide was included in the box with a QR code that can be accessed here:

Get started with RealWear by using this start-up guide. Watch videos or read the help articles to set up your device. Access the RealWear ecosystem which includes RealWear Cloud, RealWear Explorer, and the RealWear Companion application. Get familiar with the device and learn more about each platform below.
Contents:
Getting Started Video Playlist
Get started with the RealWear device by watching our Getting Started playlist. The videos cover how to wear the device, connect to WiFi, perform a firmware update, and how to use RealWear Explorer and RealWear Cloud.
☆ Getting Started Playlist on YouTube
Wearing the Device
Wearing the device properly is an important step. First, determine your eye dominance to find out which side to place the display. It's key to fit the device to your head correctly and position the display so you can see all four corners of the screen. You will need to adjust the display each time you wear the device, so it's good to become familiar with moving the boom arm and how to tilt the display for your best viewing experience.
Voice Commands
RealWear devices are primarily operated by speech recognition using voice commands. Instead of tapping or pressing on a button, simply speak the words on the screen to make a selection.
RealWear Companion Application
The RealWear Companion app allows users to configure settings on the RealWear device, generate custom QR codes, and more. Download the app for free on the Apple App Store and the Google Play store, or by using the QR code below: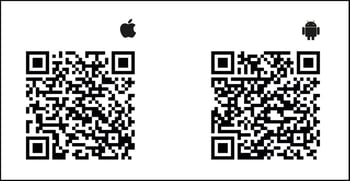 RealWear Explorer
RealWear Explorer is a tool that mirrors the screen of the RealWear device allowing you to view the device applications on your desktop, cast your screen, and use the computer mouse and keyboard to drive the device interface from your desktop. RealWear Explorer also has shortcut buttons and developer tools to make developing on RealWear devices an easier experience.
Directly download RealWear Explorer:
RealWear Cloud
RealWear Cloud is a software platform that allows IT administrators to enhance and streamline control of the RealWear device fleet.
Firmware
Firmware updates will take place approximately every quarter and may include security patches, bug fixes, and new features.
RealWear Updates
RealWear Support
Contact Support for assistance with RealWear devices or applications.
Existing Customer can reach out through our toll-free numbers.
US Toll Free: +1 833 732 5932
UK Toll Free: +44 800 368 8413