Overview
RealWear's commitment is to keep all devices secure according to the established best practices for enterprise mobile devices, by providing firmware updates approximately every quarter that include security patches, bug fixes and new features.
Firmware updates will include security patches for Android Open Source Project (AOSP) released by Google, as well as patches for RealWear-specific feature updates and bug fixes. RealWear will additionally provide security and other updates as they become available from third-parties such as Google, all in accordance with RealWear's firmware release schedule set forth in the firmware policy linked above.
RealWear does not provide security patches for older firmware versions. Therefore, all RealWear devices need to be updated to the most recent firmware versions that incorporate the most recent security updates. Older releases will need to go through several sequential firmware updates in order to get to the most current version.
Today there are many firmware versions installed across the population of RealWear devices, all of which are only eligible to receive security updates by upgrading to the latest version. Any RealWear customer or partner who hasn't upgraded to the latest RealWear firmware version may be incurring an increased security risk.
RealWear ended support for firmware versions for 10.2 for the HMT-1 and 10.4 for the HMT-1Z1 and all prior versions on November 17th, 2020. RealWear can assist you in upgrading to the current version of firmware but cannot troubleshoot issues on these versions. Beginning in 2021, RealWear updated our support policy to only support the current version and two prior versions. "N-2". The communication of this policy change, to support only the current and two prior versions was sent out on September 18th, 2020. It can also be found on our website here.
This document describes RealWear's policy on software updates and support regarding security patches, bug fixes and new features.
Firmware Upgrade Policy Changes
The graphic below displays the firmware upgrade path by device (HMT-1 or HMT-1Z1) beginning from each product's launch date. Refer to this diagram to determine your upgrade path: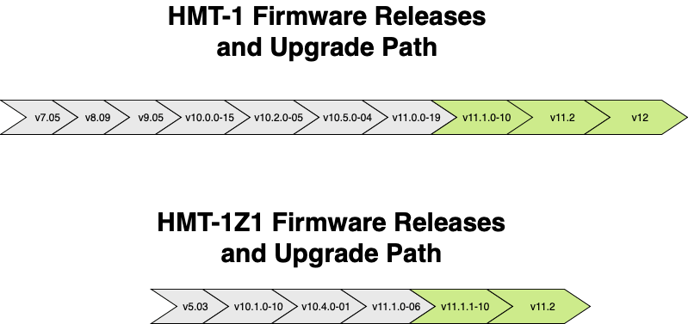 In the diagrams above, only releases in green are supported by RealWear.
The upgrade path for all generally available firmware is available by default to all devices. If you have questions about what firmware are generally available, please consult RealWear's knowledge center.
Starting with Release 11.2, the firmware policy is:
RealWear will provide 30 days notice of a new firmware release. The notice will appear in a memo on RealWear.com and also will be delivered to existing customer contacts via email.
A reminder will be sent two weeks before the firmware release.
Unless an extension has been previously requested through RealWear support, the new firmware will be available by default to all devices on the planned date.
Any security risk resulting from such extension or other delay in downloading the available firmware will be borne solely by the customer, including any losses, expenses or damages suffered as a result of such extension or other delay.
Firmware Upgrade Policy FAQs
Q: Will the updates get forced to my RealWear devices?
No, once an upgrade is available to a device, users must still go into the Wireless Update application on their RealWear device to upgrade. For more details, consult RealWear's Knowledge Center.
Q: I'm not ready for an update, what should I do?
You can delay your update by 30 days after the release general availability date. Contact RealWear support and be ready with an excel document that contains your device serial numbers for which you would like the firmware upgrade to be delayed.
Q: I'd like to delay receiving firmware updates beyond 30 days, what should I do?
RealWear strongly advises against failing to update your devices because of the potential security risks. We will work with you to make upgrading as easy as possible and have device updates occur at a convenient time for you. RealWear will also send you regular reminders to update your devices.
Q: What are some best practices to plan for and manage firmware updates?
Read the product brief when it comes out a month before firmware general availability
Sign up for early access if you'd like to test the firmware before general availability
Discuss firmware specific training services with our Customer Training and Success team
Plan for the new release with your chosen application software partner(s)
Contact RealWear Support about any additional concerns
Q: How can I participate in firmware early access?
Full details on how to participate in early access will also be outlined in the product brief.
Q: What does firmware end of support mean?
End of support means that, without updating to a supported firmware version, you cannot receive support from RealWear. When contacting RealWear support or any of your dedicated contacts, you will be asked to first upgrade to a supported version.
Q: Who should I talk to about upgrading my firmware?
RealWear as a company is committed to helping you upgrade your firmware. You may reach out to RealWear Support, any of your dedicated RealWear contacts or leverage the content in the RealWear Knowledge Center to get assistance upgrading.