This article provides release notes for RealWear Navigator™ 500 firmware release 1.1, which includes the latest security patch, additional feature updates, and minor bug fixes.
Overview
This release is only applicable to the Navigator 500 model. Any Navigator 500 sold by RealWear may update to this release.
Note: Release notes are only a summary of what's new in this release.
Deliverables
Delivery Data

| | |
| --- | --- |
| Item | Description |
| Company | RealWear Inc. |
| Model numbers | RealWear Navigator 500 (T21G) |
| Firmware version | 1.1 |
| Build file names | 1.1.3-21-C.NAV5XX.G |
Connect to Wi-Fi
If Wi-Fi is not connected, you will now see the GET CONNECTED option on your RealWear Navigator 500™ home screen.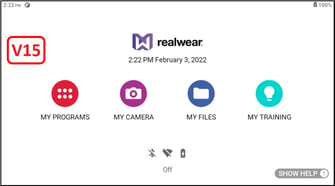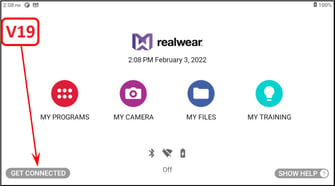 Updated My Training App
The following My Training app improvements are included in this release:
Easier to access training sub-modules.

Minor bug fixes.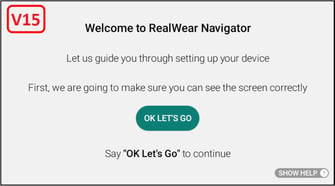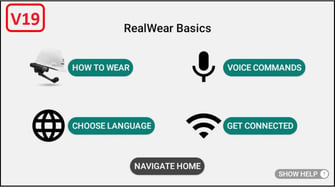 android.software.managed_users Declaration
MDM/EMM/UEM improvements for enrollment behaviors. Contact RealWear support for details.
Keyboard Improvements
The following keyboard improvements are included in this release:
Auto-entry text input using the speech keyboard has improved.
Changed voice keyboard phonetic command "Beta" to "Bravo".
Minor bug fixes.
Camera Improvements
The following camera improvements are included in this release:
Increased default video resolution to 1080p.
Support for 60 FPS video capture in 4:3 ratio only.
Overall improvement to image quality with indoor and outdoor lighting conditions for snapshots and video.
More accurate color reproduction in saved images.
Telephoto mode in My Controls is now enabled in other applications.
Android Security Updates
Security updates released through the end of January 2022 have been incorporated into this release.
Other Bug Fixes and Known Issues
The following issues have been addressed and fixed:
Fixed issues with the barcode reader as keyboard input.
Over 15 translation improvements and fixes.
Fixed a WebRTC audio routing issue when making a video call.
Other bug fixes and improvements have been made for this release. Contact RealWear support for any details on specific fixes or issues.
Software Availability and Update Method
The upgrade process for Release 1.1 is a simple one-step process that retains your data.
To receive the over-the-air update, users have to be on the following:
1.0.3-16-C.NAV5XX.G
1.0.3-19-C.NAV5XX.G
For specific details on how to upgrade, visit the Wireless Update page in the RealWear Knowledge Center.
Security Patch List
October 2021 Security Patches
Android Runtime Component

| | | |
| --- | --- | --- |
| CVE | References | Status |
| CVE-2021-0703 | A-184569329 | Included |
Framework Components

| | | |
| --- | --- | --- |
| CVE | References | Status |
| CVE-2021-0652 | A-185178568 | Included |
| CVE-2021-0705 | A-185388103 | Included |
| CVE-2021-0708 | A-183262161 | N/A for RealWear baseline |
| CVE-2020-15358 | A-192605364 | Included |
| CVE-2021-0702 | A-193932765 | Included |
| CVE-2021-0651 | A-67013844 | Included |
Kernel Components

CVE

References

Status

CVE-2020-29660

A-175451844

N/A for RealWear baseline

Upstream kernel

CVE-2020-10768

A-169505929

N/A for RealWear baseline

Upstream kernel

CVE-2021-29647

A-184622099

N/A for RealWear baseline

Upstream kernel
Media Framework Component

| | | |
| --- | --- | --- |
| CVE | References | Status |
| CVE-2021-0483 | A-153358911 [2] | Included |
Qualcomm Closed-Source Components

| | | |
| --- | --- | --- |
| CVE | References | Status |
| CVE-2020-11303 | A-193070323 * | N/A for RealWear baseline |
| CVE-2020-26140 | A-177911345 * | N/A for RealWear baseline |
| CVE-2020-26147 | A-177910719 * | N/A for RealWear baseline |
| CVE-2021-1913 | A-184561641 * | N/A for RealWear baseline |
| CVE-2021-1917 | A-184561580 * | N/A for RealWear baseline |
| CVE-2021-1932 | A-184561562 * | N/A for RealWear baseline |
| CVE-2021-1936 | A-184561359 * | N/A for RealWear baseline |
| CVE-2021-1949 | A-184561794 * | N/A for RealWear baseline |
| CVE-2021-1959 | A-184561776 * | N/A for RealWear baseline |
| CVE-2021-1983 | A-190402581 * | N/A for RealWear baseline |
| CVE-2021-1984 | A-190403732 * | N/A for RealWear baseline |
| CVE-2021-1985 | A-190404406 * | N/A for RealWear baseline |
| CVE-2021-30256 | A-190404960 * | N/A for RealWear baseline |
| CVE-2021-30257 | A-190403214 * | N/A for RealWear baseline |
| CVE-2021-30258 | A-190404449 * | N/A for RealWear baseline |
| CVE-2021-30288 | A-193069567 * | N/A for RealWear baseline |
| CVE-2021-30291 | A-190404407 * | N/A for RealWear baseline |
| CVE-2021-30292 | A-190404329 * | N/A for RealWear baseline |
| CVE-2021-30297 | A-190403733 * | N/A for RealWear baseline |
| CVE-2021-30302 | A-193070343 * | N/A for RealWear baseline |
| CVE-2021-30310 | A-193070558 * | N/A for RealWear baseline |
Qualcomm Components

CVE

References

Status

CVE-2020-11264

A-175608649

N/A for RealWear baseline

QC-CR#2860206 [2]

CVE-2020-11301

A-179929247

N/A for RealWear baseline

QC-CR#2860198 *

QC-CR#2867022 [2] [3]

CVE-2020-24587

A-175626671

N/A for RealWear baseline

QC-CR#2860131

Included

QC-CR#2868012 *

N/A for RealWear baseline

QC-CR#2875946 [2]

N/A for RealWear baseline

QC-CR#2875950

Included

QC-CR#2874366

N/A for RealWear baseline

CVE-2020-24588

A-175626624

N/A for RealWear baseline

QC-CR#2866467 *

QC-CR#2867578 *

QC-CR#2867994

QC-CR#2868616 *

QC-CR#2877094 *

QC-CR#2879013 *

QC-CR#2883162 *

QC-CR#2886422 *

QC-CR#2888466 *

QC-CR#2890623 *

QC-CR#2896070 *

QC-CR#2896369 *

QC-CR#2861800 [2] [3] [4] [5]

QC-CR#2943860 *

CVE-2020-26139

A-177911151

N/A for RealWear baseline

QC-CR#2860248

QC-CR#2868054

QC-CR#2888227

QC-CR#2888467

QC-CR#2942096

QC-CR#2943789 [2] [3] [4] [5]

QC-CR#2867013 *

CVE-2020-26141

A-177911676

N/A for RealWear baseline

QC-CR#2869483

CVE-2020-26145

A-177910901

N/A for RealWear baseline

QC-CR#2860245

QC-CR#2868035 *

QC-CR#2893212

CVE-2020-26146

A-175626808

N/A for RealWear baseline

QC-CR#2860242

QC-CR#2874369

CVE-2021-1977

A-193070701

N/A for RealWear baseline

QC-CR#2859024 [2]

CVE-2021-1980

A-190404330

N/A for RealWear baseline

QC-CR#2873394

CVE-2021-30305

A-193070437

N/A for RealWear baseline

QC-CR#2913910

CVE-2021-30306

A-193071117

N/A for RealWear baseline

QC-CR#2915692

CVE-2021-30312

A-193070595

N/A for RealWear baseline

QC-CR#2948107 [2]
November 2021 Security Patches
Android TV Components

| | | |
| --- | --- | --- |
| CVE | References | Status |
| CVE-2021-0889 | A-180745296 | N/A for RealWear baseline |
| CVE-2021-0927 | A-189824175 | Included |
Framework Components

| | | |
| --- | --- | --- |
| CVE | References | Status |
| CVE-2021-0799 | A-197647956 | N/A for RealWear baseline |
| CVE-2021-0921 | A-195962697 | N/A for RealWear baseline |
| CVE-2021-0923 | A-195338390 | N/A for RealWear baseline |
| CVE-2021-0926 | A-191053931 | Included |
| CVE-2021-0933 | A-172251622 | N/A for RealWear baseline |
| CVE-2020-13871 | A-192606047 | N/A for RealWear baseline |
| CVE-2021-0653 | A-177931370 | Included |
| CVE-2021-0922 | A-195630721 | Included |
Kernel Components

CVE

References

Status

CVE-2021-0920

A-196926917

N/A for RealWear baseline

Upstream kernel

CVE-2021-0924

A-194461020

N/A for RealWear baseline

Upstream kernel

CVE-2021-0929

A-187527909

N/A for RealWear baseline

Upstream kernel [2] [3]

CVE-2021-1048

A-204573007

N/A for RealWear baseline

Upstream kernel
Media Framework Components

| | | |
| --- | --- | --- |
| CVE | References | Status |
| CVE-2021-0928 | A-188675581 | Included |
| CVE-2021-0650 | A-190286685 | Included |
MediaTek Components

CVE

References

Status

CVE-2021-0672

A-199678035M-

N/A for RealWear baseline

ALPS05969704 *
Qualcomm Closed-Source Components

| | | |
| --- | --- | --- |
| CVE | References | Status |
| CVE-2021-1924 | A-187074639 * | N/A for RealWear baseline |
| CVE-2021-1975 | A-187074053 * | N/A for RealWear baseline |
| CVE-2021-1921 | A-187074562 * | N/A for RealWear baseline |
| CVE-2021-1973 | A-187074563 * | N/A for RealWear baseline |
| CVE-2021-1979 | A-187073200 * | N/A for RealWear baseline |
| CVE-2021-1981 | A-187074764 * | N/A for RealWear baseline |
| CVE-2021-1982 | A-187074484 * | N/A for RealWear baseline |
| CVE-2021-30254 | A-187074014 * | N/A for RealWear baseline |
| CVE-2021-30255 | A-187074054 * | N/A for RealWear baseline |
| CVE-2021-30284 | A-187074013 * | N/A for RealWear baseline |
System Components

| | | |
| --- | --- | --- |
| CVE | References | Status |
| CVE-2021-0918 | A-197536150 | N/A for RealWear baseline |
| CVE-2021-0930 | A-181660091 | N/A for RealWear baseline |
| CVE-2021-0434 | A-167403112 [2] [3] [4] [5] [6] | Included |
| CVE-2021-0649 | A-191382886 [2] | N/A for RealWear baseline |
| CVE-2021-0932 | A-173025705 | Included |
| CVE-2021-0925 | A-191444150 | N/A for RealWear baseline |
| CVE-2021-0931 | A-180747689 | Included |
| CVE-2021-0919 | A-197336441 | Included |
December 2021 Security Patches
Framework Components

| | | |
| --- | --- | --- |
| CVE | References | Status |
| CVE-2021-0955 | A-192085766 | Included |
| CVE-2021-0970 | A-196970023 | Included |
| CVE-2021-0704 | A-179338675 | Included |
Kernel Components

| | | |
| --- | --- | --- |
| CVE | References | Status |
| CVE-2021-33909 | A-195082750 | N/A for RealWear baseline |
| CVE-2021-38204 | A-196448784 | N/A for RealWear baseline |
| CVE-2021-0961 | A-196046570 | N/A for RealWear baseline |
Media Framework Components

| | | |
| --- | --- | --- |
| CVE | References | Status |
| CVE-2021-0967 | A-199065614 | Included |
| CVE-2021-0964 | A-193363621 | Included |
| CVE-2021-0971 | A-188893559 | N/A for RealWear baseline |
Qualcomm Closed-Source Components

| | | |
| --- | --- | --- |
| CVE | References | Status |
| CVE-2021-30275 | A-190403081 * | N/A for RealWear baseline |
| CVE-2021-30276 | A-190404445 * | N/A for RealWear baseline |
| CVE-2021-30351 | A-201430561 * | N/A for RealWear baseline |
| CVE-2020-11263 | A-190404447 * | N/A for RealWear baseline |
| CVE-2021-1894 | A-190404405 * | N/A for RealWear baseline |
| CVE-2021-1918 | A-190403729 * | N/A for RealWear baseline |
| CVE-2021-30267 | A-190403212 * | N/A for RealWear baseline |
| CVE-2021-30268 | A-190404446 * | N/A for RealWear baseline |
| CVE-2021-30269 | A-190403511 * | N/A for RealWear baseline |
| CVE-2021-30270 | A-190402575 * | N/A for RealWear baseline |
| CVE-2021-30271 | A-190404402 * | N/A for RealWear baseline |
| CVE-2021-30272 | A-190404323 * | N/A for RealWear baseline |
| CVE-2021-30273 | A-190404403 * | N/A for RealWear baseline |
| CVE-2021-30274 | A-190403731 * | N/A for RealWear baseline |
| CVE-2021-30278 | A-190403213 * | N/A for RealWear baseline |
| CVE-2021-30279 | A-190402580 * | N/A for RealWear baseline |
| CVE-2021-30282 | A-190404328 * | N/A for RealWear baseline |
| CVE-2021-30283 | A-190403513 * | N/A for RealWear baseline |
| CVE-2021-30289 | A-190404404 * | N/A for RealWear baseline |
| CVE-2021-30293 | A-190404327 * | N/A for RealWear baseline |
| CVE-2021-30303 | A-199192449 * | N/A for RealWear baseline |
| CVE-2021-30336 | A-199191065 * | N/A for RealWear baseline |
Qualcomm Components

| | | |
| --- | --- | --- |
| CVE | References | Status |
| CVE-2021-30262 | QC-CR#2774954 | N/A for RealWear baseline |
| CVE-2021-30335 | QC-CR#2964455 | N/A for RealWear baseline |
| CVE-2021-30337 | QC-CR#2971293 | N/A for RealWear baseline |
System Components

| | | |
| --- | --- | --- |
| CVE | References | Status |
| CVE-2021-0968 | A-197868577 | Included |
| CVE-2021-0956 | A-189942532 | Included |
| CVE-2021-0953 | A-184046278 | Included |
| CVE-2021-0954 | A-143559931 | Included |
| CVE-2021-0963 | A-199754277 [2] | Included |
| CVE-2021-0965 | A-194300867 | Included |
| CVE-2021-0952 | A-195748381 | Included |
| CVE-2021-0966 | A-198346478 | Included |
| CVE-2021-0958 | A-200041882 | N/A for RealWear baseline |
| CVE-2021-0969 | A-199922685 | Included |
January 2022 Security Patches
Android Runtime Component

| | | |
| --- | --- | --- |
| CVE | References | Status |
| CVE-2021-0959 | A-200284993 | N/A for RealWear baseline |
Framework Components

| | | |
| --- | --- | --- |
| CVE | References | Status |
| CVE-2021-39630 | A-202768292 | N/A for RealWear baseline |
| CVE-2021-39632 | A-202159709 | N/A for RealWear baseline |
| CVE-2020-0338 | A-123700107 | Included |
Kernel Components

| | | |
| --- | --- | --- |
| CVE | References | Status |
| CVE-2021-39634 | A-204450605 | N/A for RealWear baseline |
| CVE-2021-39633 | A-150694665 | N/A for RealWear baseline |
Media Framework Component

| | | |
| --- | --- | --- |
| CVE | References | Status |
| CVE-2021-39623 | A-194105348 | Included |
Qualcomm Closed-Source Components

| | | |
| --- | --- | --- |
| CVE | References | Status |
| CVE-2021-30285 | A-193070555 * | N/A for RealWear baseline |
| CVE-2021-30287 | A-193070556 * | N/A for RealWear baseline |
| CVE-2021-30300 | A-193071116 * | N/A for RealWear baseline |
| CVE-2021-30301 | A-193070342 * | N/A for RealWear baseline |
| CVE-2021-30307 | A-193070700 * | N/A for RealWear baseline |
| CVE-2021-30308 | A-193070594 * | N/A for RealWear baseline |
| CVE-2021-30311 | A-193070557 * | N/A for RealWear baseline |
Qualcomm Components

| | | |
| --- | --- | --- |
| CVE | References | Status |
| CVE-2021-30319 | QC-CR#2960714 | N/A for RealWear baseline |
| CVE-2021-30353 | QC-CR#2993069 [2] | Included |
System Components

| | | |
| --- | --- | --- |
| CVE | References | Status |
| CVE-2021-39618 | A-196855999 * | N/A for RealWear baseline |
| CVE-2021-39620 | A-203847542 | N/A for RealWear baseline |
| CVE-2021-39621 | A-185126319 | Included |
| CVE-2021-39622 | A-192663648 * | N/A for RealWear baseline |
| CVE-2021-39625 | A-194695347 * | N/A for RealWear baseline |
| CVE-2021-39626 | A-194695497 | Included |
| CVE-2021-39627 | A-185126549 | N/A for RealWear baseline |
| CVE-2021-39629 | A-197353344 | N/A for RealWear baseline |
| CVE-2021-0643 | A-183612370 | Included |
| CVE-2021-39628 | A-189575031 | Included |
| CVE-2021-39659 | A-208267659 | Included |