Setting Up Bluetooth Primary/Secondary Switch
RELEASE 11.2
This article has been updated to reflect software changes implemented in Release 11.2. For instructions on updating your device, please see Wireless Update. For more information on Release 11.2, please see Release Notes.
---
You can connect HMT-1 or HMT-1Z1 to other Bluetooth devices, in either Bluetooth primary or Bluetooth secondary modes.
In Primary mode, HMT can connect to audio devices such as Bluetooth earpieces and Bluetooth speakers.
In Secondary mode, the HMT can connect to mobile phones and act as a Bluetooth microphone/headset for the phone.
To change the Bluetooth mode, go to My Programs and say "SETTINGS".
Select the item called "REALWEAR" just by its name or select the item number using "SELECT ITEM #".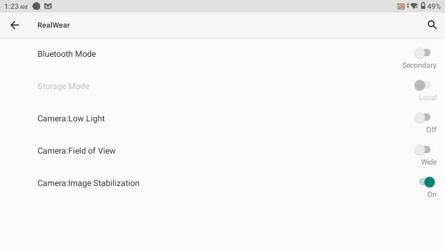 Here you'll see a setting called Bluetooth Mode. By default this is set to Secondary. Say "BLUETOOTH MODE" to toggle between Primary and Secondary modes.
Note: HMT-1 and HMT-1Z1 units on software versions 11.1 or earlier will display Bluetooth Master/Slave modes. RealWear has made these changes in English only absent an updated standard set by the Bluetooth Special Interest Group and will monitor this situation moving forward for changes that can be made in future firmware versions.