This article will provide an overview of the RealWear Thermal Camera Module, as well as provide instructions on how to install the module and get started
Thermal Camera Module for RealWear Navigator™ 500 series devices
SKU 127127
The Thermal Camera Module is an accessory module for the RealWear Navigator 500 Series that provides a user with real-time infrared imagery (heat signature) of the surrounding environment. The Thermal Camera Module replaces the existing visible camera of the RealWear Navigator 500 Series and connects via the camera port, without any configuration changes or cable.
The Thermal Camera Module includes the same 48MP visible sensor found in the standard camera module as well as a thermal sensor. The module is capable of real-time, hands-free viewing of the thermal information of industrial systems and equipment as well as excellent visual camera performance.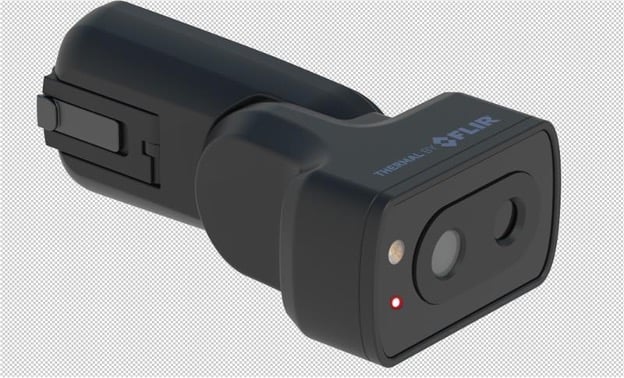 Installing the Thermal Camera Module
IMPORTANT

Make sure your RealWear Navigator device is updated to the latest firmware release.

For more information on how to update, please see the following links:
Removing the existing camera module:
Power off device by pressing the power button/fingerprint sensor for 3 seconds.
Remove the Modular Camera by pushing the camera latch forward.
With the camera latch pushed forward, lift up on the camera tab.
With the camera tab released, gently pull the camera away from the device.
Installing the Thermal Camera Module:
Align the camera female connector with the device male connector.
Gently press the camera until the camera is flush with the device.
Press the camera tab down until it snaps securely into place.
Getting Started
My Camera is a hands-free application for taking photographs and videos. The RealWear Navigator 500 series device will sense which camera module is installed.
From the Home Screen or from the My Programs screen, say "MY CAMERA" to launch the My Camera application. When My Camera is launched, a live view of the RealWear Navigator 500 camera optical input will be visible in the RealWear Navigator display pod.