My Programs Overview
My Programs allows RealWear Navigator™ 500 users to access installed applications.
Say "MY PROGRAMS" from the Home screen to open the My Programs app.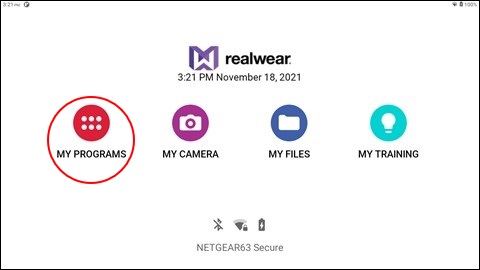 The following default applications are in My Programs:
About Device
Audio Recorder
Barcode Reader
Calculator
Clock
Cloud Sync
Configuration
My Camera
My Controls
My Files
My Training
Pedometer
Settings
Tetrominos
Web Apps
Wireless Update
To choose an application, say the application name as shown in My Programs, or say the number displayed in the upper right corner of the icon. For example, say, "CLOCK" or say, "SELECT ITEM FIVE".