My Files Overview
View documents, photos, and video files locally stored or stored on an installed micro SD card using the My Files app.
Launch My Files from the Home Screen or My Programs. The My Files screen shows the My Media, My Documents, and My Photos folders.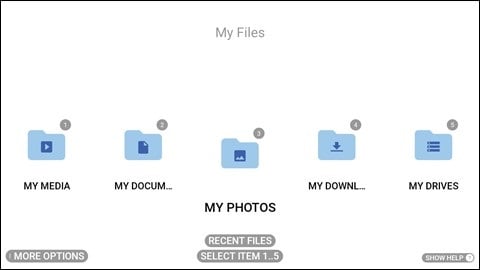 Say "MORE OPTIONS" to open the options panel and access the Scan Bookmark tool. Say "RECENT FILES" for quick access to any recently opened file.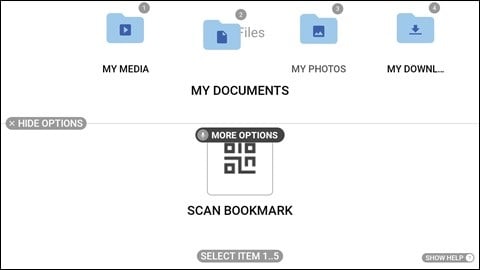 File Browser Voice Commands

| | |
| --- | --- |
| Voice Command | Action |
| "BACK ONE LEVEL" | Navigates to the previous folder in the folder tree. |
| "MORE OPTIONS" | Displays contextual options for each view. |
| "MY DOCUMENTS" | Displays files stored in the My Documents folder. |
| "MY MEDIA" | Displays files stored in the videos folder and videos recorded using the RealWear Navigator™ 500 camera and stored in DCIM folder. |
| "MY PHOTOS" | Displays files stored in the photos folder and still images captured using the RealWear Navigator camera. |
| "RECENT FILES" | Displays recent files. |
| "SHOW HELP" | Displays extra commands. |