Update - October 2022
This week Microsoft announced the generally availability of Microsoft Intune (part of Endpoint Manager). This will unlock the value of RealWear for both new and longtime customers. As this is a major milestone for frontline workers, we want to publicly thank Microsoft for its close collaboration with RealWear to enable Android Open Source Project (AOSP) devices operability with Microsoft Intune. Read Microsoft's announcement here
Technical: What's changed?
Microsoft has now added support for the distribution of both SCEP and PKCS Identity Certificates, as well as Trusted Root Certificates, to Android Open-Source Project (AOSP) devices like the RealWear HMT-1®/HMT-1Z1® and RealWear Navigator® 500 series devices. This now allows Intune users to take full advantage of modern Android management with AOSP devices.

What should I do?

Learn more by contacting our solutions team. With this new functionality through Intune, your deployment is even easier to manage than ever. Immediately contact your appropriate department and alert them that Intune now supports the distribution of identity certificates for use with Wi-Fi configurations to RealWear devices such as RealWear HMT-1®, HMT-1Z1®, and RealWear Navigator® 500 series.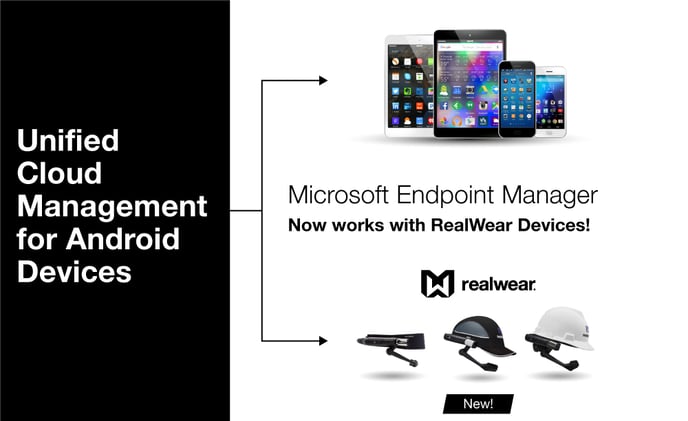 Q: What does the AOSP announcement change?
Out of the box, HMT devices can be enrolled into Microsoft Endpoint Manager using an enrollment QR code.
Prior to the AOSP update, Company portal app had to be pre-installed on the HMT to onboard them to Intune.

Q: What are the available enrollment types now?
IT admins now get 3 options to enroll HMT devices with Intune:
Continue to use device admin enrollment (Legacy mode)
Use Android AOSP – user-based enrollment
Use Android AOSP – userless enrollment

Q: What is the difference in the 2 AOSP enrollment types?
Both options provide QR code-based enrollment,
Corporate owned user associated devices are directly associated with an AD user
Corporate owned user less devices – not mapped to any user at enrollment
This gives the IT admin freedom of options to choose from while planning device enrolment and deployment scenarios.
Also, the end user experience is simplified with the user of a QR code.
More details including steps and screenshots are available in the Microsoft blog post.
Q: Who creates the QR code and how?
Enrollment QR codes are created by the Microsoft Endpoint manager admin within an enterprise IT or the EUC mobility team.
Detailed instructions on how to create the QR codes are available on Microsoft blog post.
Q: What happens to RealWear Cloud?
RealWear Cloud and Microsoft Intune have always worked together and will continue to remain compatible with each other.

Q: Do I need to change anything on RealWear Cloud?
It is not required to make any changes to RWC.
We can continue to use RWC to manage HMT and devices for application deployment.
Microsoft Teams app for HMT will continue to be deployed through RWC only.
Q: What configuration profiles are possible today with AOSP?
While most of the device compliance and conditional access policies are available to validate in the public preview, there are a few scenarios not yet supported in this preview release but will be completed when Microsoft will roll this capability out for general availability, including:
Certificate and WiFi management
App protection policies on user-associated devices
End user experiences - such as providing device compliance information in the Microsoft Intune app
Filters and scope tags
Additional remote actions e.g., pin reset
Q: Where can I find more information on Microsoft AOSP announcement?
Below are some links for more information: