Overview
Zoom for the RealWear HMT can enable real-time communication and collaboration for users of the HMT-1 and HMT-1Z1.
Request Zoom for RealWear
Visit the Zoom for RealWear page to learn more about this remote work solution and apply for the application on the form at the bottom of the page.
WearML Updates for Zoom Customers
RealWear has done some work with "WearML scripting" to provide HMT users an enhanced voice-first experience using Zoom Meetings on your hands-free RealWear HMT-1 and intrinsically safe HMT-1Z1.
After requesting the application and receiving the app via Foresight, you have also been provided access to a system policy in your organization's RealWear Foresight domain called Zoom 5.0 + WearML. You may simply add your existing devices to this policy to install the app and corresponding WearML files.
Note: WearML for Zoom replaces some of the standard short-syllable commands with easy-to-use overlaid commands, helping to prevent accidental recognition of simple words, as well as making numbered items easier to click. We feel this will improve the experience overall and welcome any and all feedback. As always, we recommend that you update your device to our latest firmware via the Wireless Update application for optimal experience.
Disclaimer: The base application is a Zoom product and this is the initial Wear ML layer to accompany it. We welcome any and all feedback, but feel free to contact Zoom directly here for feature requests.
If you have not already received this update, please contact our support team.
Troubleshooting
If you have already received and installed the WearML update on your HMT, your Zoom home screen should appear as below, with Go To Settings in the top-left corner of the display: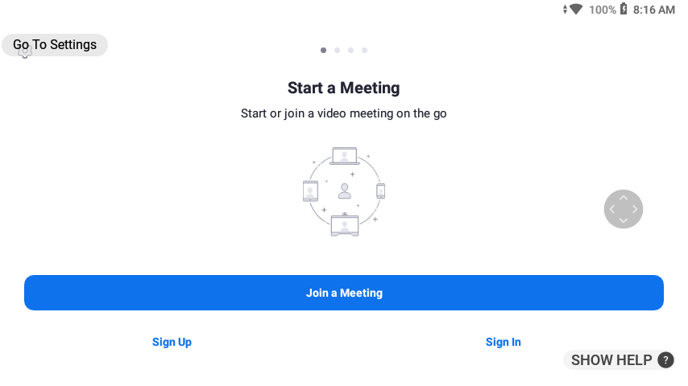 If you see this text, you have successfully installed the update and no further action is necessary.
If you have installed the update and do not see this text (see screenshot below), power cycle your HMT. Once you have power cycled your HMT, WearML will have installed and you should be able to use Zoom with our new enhancements. If, after installing the update and power cycling the device, you still do not see this updated Zoom home screen, please contact support.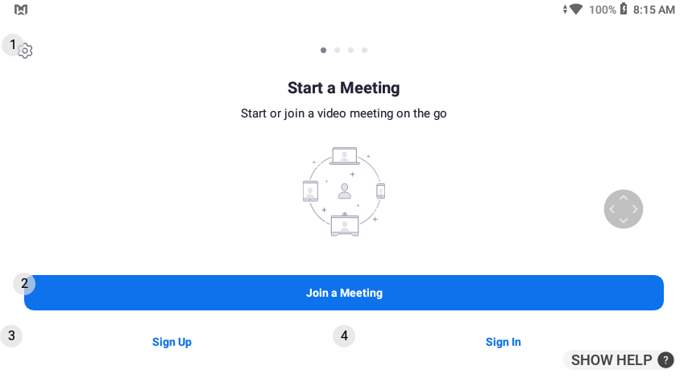 Please visit the RealWear Support site for future updates.